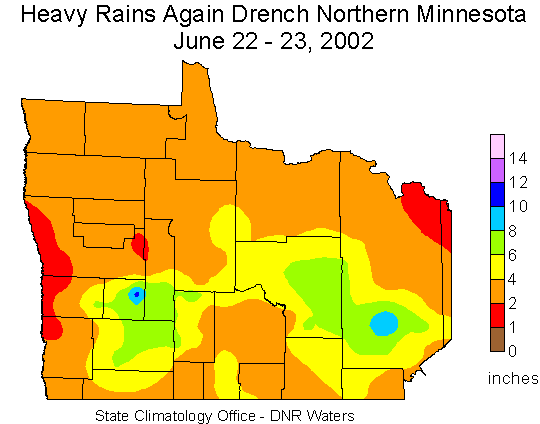 Adding insult to injury, heavy rains fell upon northern Minnesota less than two weeks after one of the most significant precipitation events in Minnesota history. Beginning on Saturday, June 22 and continuing into Sunday June 23, torrential rains exceeding four inches fell in an arc from already hard-hit Norman and Mahnomen counties, east to St. Louis county. Portions of Norman, Mahnomen, Becker, Clearwater, Itasca, and St. Louis counties reported more than six inches of rain in the two-day event. Rainfall amounts topping eight inches were observed in small areas of Mahnomen and St. Louis counties.

The heavy rains led to flooding in Ada, Mahnomen, and Floodwood; inundated already water-logged crop lands in northwestern Minnesota, and resulted in numerous road washouts and flooded basements across the effected areas.

While the heavy rain was devastating to many, residents in some northern Minnesota communties received a welcome respite from a dry spell that had persisted throughout the late spring and early summer.

Listed here are some Public Information Statements from the National Weather Service regarding the flooding on June 22 and 23, 2002.

PUBLIC INFORMATION STATEMENT
NATIONAL WEATHER SERVICE DULUTH MN
910 AM CDT SUN JUN 23 2002

HERE ARE RAINFALL REPORTS FROM COOPERATIVE OBSERVERS...SPOTTERS AND
AUTOMATED STATIONS CALLED INTO THE NATIONAL WEATHER SERVICE FOR THE 
PAST 24 HOURS THROUGH 830 AM THIS MORNING.
NORTHEAST MINNESOTA                                                

LOCATION                        COUNTY         RAINFALL                                             
NWS DULUTH                      ST LOUIS          2.96
BRIMSON                         ST LOUIS          2.36
FLOODWOOD                       ST LOUIS          3.93     
HIBBING ASOS                    ST LOUIS          4.06
EMBARRASS                       ST LOUIS          2.49 
WHITEFACE LAKE                  ST LOUIS          3.77 
COOK                            ST LOUIS          1.87                  
BABBITT                         ST LOUIS          1.58       
CLOQUET                         CARLTON           1.14 
MOOSE LAKE                      CARLTON           0.64     
INTERNATIONAL FALLS ASOS        KOOCHICHING       1.28     
LITTLE FORK                     KOOCHICHING       1.39
12N BOVEY                       ITASCA            7.45
MARCELL                         ITASCA            4.90 
GRAND RAPIDS AWOS               ITASCA            5.25 
4NW LONGVILLE                   CASS              2.90
BRAINERD 4SW                    CROW WING         1.57 
BRAINERD 3N                     CROW WING         0.96 
CROSS LAKE                      CROW WING         1.43  
GULL LAKE DAM                   CROW WING         1.14
NISSWA 3NE                      CROW WING         0.88
EMILY                           CROW WING         1.71 
CROSS LAKE                      CROW WING         1.43 
ISLE 12N                        AITKIN            0.81 
FINLAND                         LAKE              2.75 
TWO HARBORS 7NW                 LAKE              4.59
SILVER BAY                      LAKE              3.25
SILVER BAY MARINA               LAKE              3.96
ISABELLA                        LAKE              1.20 
TROUT LAKE LODGE                COOK              0.70
  
 
NORTHWEST WISCONSIN   
LOCATION                        COUNTY         RAINFALL
BARNES                          BAYFIELD          0.23
BAYFIELD 6N                     BAYFIELD          1.05
BAYFIELD FISH HATCHERY          BAYFIELD          0.66
ASHLAND ASOS                    ASHLAND           0.20    
OULU                            ASHLAND           0.55 
BUTTERNUT                       ASHLAND           0.23
HURLEY                          IRON              0.05
SPOONER                         WASHBURN          2.90
HAYWARD ASOS                    SAWYER            0.03

PUBLIC INFORMATION STATEMENT
NATIONAL WEATHER SERVICE EASTERN ND/GRAND FORKS
625 PM CDT SUN JUN 23 2002

SOME RAIN REPORTS FROM SATURDAY NIGHT AND EARLY SUNDAY MORNING. A 
SIMILAR PRODUCT IS AVAILABLE AS BISHYDFAR (WMO HEADER SXUS53 KFGF). 

ALCORN RESORT            6.31 INCHES
PARK RAPIDS     MN       5.80
TWIN VALLEY     MN       5.51
HAVANA          ND       3.76 
BLACKDUCK       MN       2.87
GWINNER         ND       2.85
MILNOR          ND       2.61
ADA             MN       2.30
FORMAN          ND       2.15
WADENA          MN       1.99
BARNEY          ND       1.75
NORRIS CAMP     MN       1.73
SAUM            MN       1.70
PEMBINA         ND       1.55
CAYUGA          ND       1.53
BELTRAMI        MN       1.51
NEW YORK MILLS  MN       1.45
GREENBUSH       MN       1.42
SHELLY          MN       1.38
WEST FARGO      ND       1.29
MAPLETON        ND       1.23
ARGYLE          MN       1.23
SOUTH FARGO     ND       1.17
ADAMS           ND       1.16
DALTON          MN       1.08
HIGHLANDING     MN       1.07
WARROAD         MN       1.06
RED LAKE DAM    MN       1.03
WARROAD 4W      MN       1.00
HALLOCK         MN       0.96
FOXHOME         MN       0.96
RED LAKE FALLS  MN       0.89
ROSEAU          MN       0.89
BALDHILL DAM    ND       0.88
LIDGERWOOD      ND       0.86
THIEF RVR FLLS  MN       0.83
NY MILLS 3NW    MN       0.82
OSLO            MN       0.80
CAVALIER        ND       0.79
MINNEWAUKIN     ND       0.78
GRAND FORKS NWS ND       0.77
MAYVILLE        ND       0.75
COLGATE         ND       0.67
ORWELL DAM      MN       0.66
HALSTAD         MN       0.55 
WEBSTER         ND       0.55
CAMPBELL        MN       0.49
LANGDON         ND       0.48
MCLEOD          ND       0.47
EDMORE          ND       0.46
COOPERSTOWN     ND       0.45
LISBON          ND       0.36
HANSBORO        ND       0.25
HOMME DAM       ND       0.21
LAKE BRONSON    MN       0.12
LAKE TRAVERSE   MN       0.05


PUBLIC INFORMATION STATEMENT
NATIONAL WEATHER SERVICE DULUTH MN
916 PM CDT SAT JUN 22 2002
THE DULUTH RADAR HAS TAKEN A LIGHTNING STRIKE AND IT IS CURRENTLY
DOWN. OUR ELECTRONIC STAFF IS ON THE WAY IN TO THE OFFICE TO FIX
THE RADAR. WE ARE ALSO HAVING PROBLEMS WITH OUR TELEPHONE SYSTEM
AS SOME OF OUR PHONE LINES ARE NOT WORKING.

WE WILL KEEP YOU INFORMED OF THE STATUS OF OUR RADAR. YOU CAN
GET RADAR DATA OFF THE INTERNET FROM SURROUNDING RADARS AT NATIONAL 
WEATHER SERVICE OFFICES AT MINNEAPOLIS...GRAND FORKS ND...GREEN BAY
WISCONSIN AND MARQUETTE MICHIGAN.



FLASH FLOOD STATEMENT
NATIONAL WEATHER SERVICE DULUTH MN
942 AM CDT SUN JUN 23 2002

...RUNOFF FROM SATURDAY EVENINGS FLASH FLOODING OVER ITASCA COUNTY 
CAUSING ROAD CLOSURES...
REPORTS FROM HAM RADIO OPERATORS AND STORM SPOTTERS INDICATE A 7 TO 
8 MILE STRETCH OF HIGHWAY 38...BETWEEN GRAND RAPIDS TO SOUTH OF 
MARCELL IS CLOSED DUE TO A MUD SLIDE AND WATER OVER THE ROAD. OTHER 
REPORTS ACROSS THE COUNTY INDICATE NUMEROUS DETOURS...AND SOME 
SECONDARY ROADS WASHED OUT DUE TO LAST NIGHTS FLOODING.

RAINFALL AMOUNTS ACROSS THIS AREA TOTALED 3 TO OVER 7 INCHES...WITH 
7.45 INCHES REPORTED 12 MILES NORTH OF BOVEY IN ITASCA COUNTY.
NO ADDITIONAL FLOODING PROBLEMS ARE EXPECTED OVER THE NEXT SEVERAL HOURS. 
ALTHOUGH...ADDITIONAL RAINFALL IS EXPECTED LATER TODAY. IF HEAVY 
RAINS DEVELOP OVER THIS AREA AGAIN...IT WILL EXACERBATE THE FLOODING 
SITUATION.

DRIVING IN THESE AREAS IS NOT RECOMMENDED AT THIS TIME. CAUTION IS 
ADVISED WHEN DRIVING THROUGH ITASCA COUNTY AND SURROUNDING AREAS.
IF ADDITIONAL HEAVY RAINS DEVELOP LATER TODAY...PERSONS LIVING ALONG 
CREEKS AND STREAMS SHOULD PREPARE TO MOVE TO HIGHER GROUND IF 
FLOODING DEVELOPS AND WARNINGS ARE ISSUED.
.END



Return to the Climate Journal
mcwg@soils.umn.edu
URL: http://climate.umn.edu/doc/journal/flash_floods/ff020622-23.htm
Last modified: July 3, 2002