Heavy Snow over Southern and Central Minnesota:
March 12-13, 2006
A powerful spring storm moved from eastern Kansas to southern Wisconsin on March 12th and 13th. This storm brought numerous tornado reports from Kansas to Illinois. This storm also dumped a swath of heavy snow across central and southern Minnesota and into western Wisconsin. At the Twin Cities International Airport 10.7 inches fell. This was the largest snow amount in a Twin Cities snowstorm since February 1-2, 2004. In this storm 11 inches fell over three days.
The snow began with a mixture of sleet and a rumble of thunder in the evening hours of March 12. About an inch of snow fell during the evening across the Twin Cities. There was a lull in the precipitation later in the evening. Then around 1am on March 13, snow moved back in around the Twin Cities and became heavy during the morning commute. At 8am at the Twin Cities International Airport visibilities were down to an eighth of a mile in heavy snow. The snow gradually tapered off during the early afternoon on the 13th.
One interesting aspect about this storm was the high water content of the snow. In St. Paul, where most of the precipitation fell as snow, 7.8 inches of snow melted down to .84 inches of water. Average precipitation for the entire month of March in the Twin Cities is 1.86 inches. In places where some rain mixed with snow precipitation amounts were even higher. Winnebago saw 1.23 inches of precipitation and Zumbrota saw 1.15 inches.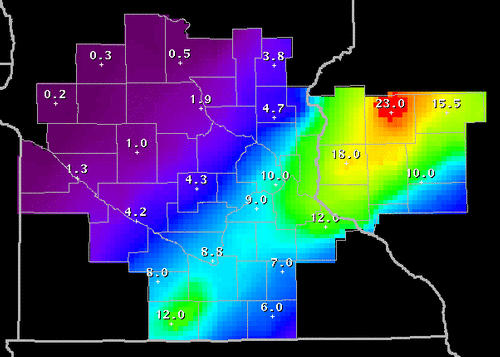 Map of March 12-13, 2006 snow event from the Chanhassen National Weather Service.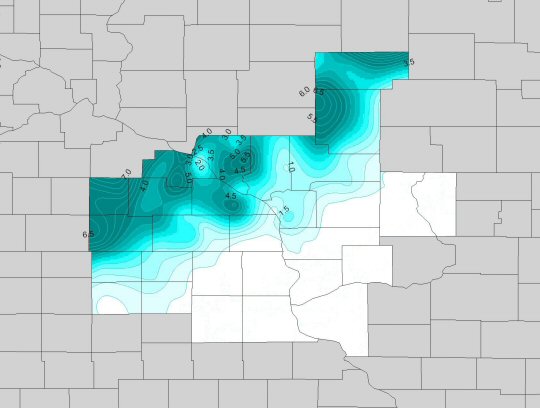 Map of March 12-13, 2006 snow event from the La Crosse National Weather Service.
A lone shoveler tackles the storm in Maplewood.
The wet, sticky snow clings to branches during the morning of March 13th.

Listed below are National Weather Service Statements about this winter storm.

PUBLIC INFORMATION STATEMENT
NATIONAL WEATHER SERVICE TWIN CITIES/CHANHASSEN MN
230 PM CST TUE MAR 14 2006

...STORM TOTAL SNOWFALL REPORTS FROM MARCH 12 AND 13...

THE FOLLOWING DATA ARE PROVIDED BY NATIONAL WEATHER SERVICE AREA 
SNOWFALL AND COOPERATIVE OBSERVERS...AS WELL AS COUNTY AND CITY 
OFFICIALS.

LOCATION              COUNTY            SNOWFALL

HASTINGS 5SE          DAKOTA            19.0
NORTH ST PAUL         RAMSEY            12.6
RED WING              GOODHUE           12.0
SHERBURN              MARTIN            12.0
WOODBURY              WASHINGTON        12.0   NEAR I94 AND CR 19
WHITE BEAR LAKE       RAMSEY            11.8
MONTGOMERY            LE SUEUR          11.7
STILLWATER            WASHINGTON        11.5
APPLE VALLEY          DAKOTA            11.0
MOUNDSVIEW            RAMSEY            11.0
NEW HOPE              HENNEPIN          11.0
MINNEAPOLIS...APT     HENNEPIN          10.7
ST PAUL               RAMSEY            10.6   I94 AND WHITE BEAR AVE
ST PAUL               RAMSEY            10.5   LAKE COMO
FALCON HEIGHTS        RAMSEY            10.5
FOREST LAKE           WASHINGTON        10.5
INVER GROVE HEIGHTS   DAKOTA            10.5
ST JAMES              WATONWAN          10.5
MAPLEWOOD             RAMSEY            10.4
FARMINGTON            DAKOTA             9.5
RICHFIELD             HENNEPIN           9.5
INDEPENDENCE          HENNEPIN           9.0  
BLOOMINGTON           HENNEPIN           9.0
COMFREY               BROWN              9.0
LAKEVILLE             DAKOTA             9.0
PRIOR LAKE            SCOTT              9.0
ZUMBROTA              GOODHUE            9.0
CHASKA                CARVER             8.9
ROCKFORD              WRIGHT             8.7
ST PAUL               RAMSEY             8.1   HIGHLAND PARK
WATERVILLE            LE SUEUR           8.0
AFTON                 WASHINGTON         7.8   NEAR I94 AND CR 71
HUTCHINSON            MCLEOD             7.5
FARIBAULT             RICE               7.5
CHANHASSEN...NWS      CARVER             7.2
EDINA                 HENNEPIN           7.0
WINNEBAGO             FARIBAULT          7.0
ELLENDALE             STEELE             7.0
GIBBON                SIBLEY             7.0
OAK GROVE             ANOKA              6.5
GRANITE FALLS         YELLOW MEDICINE    6.0
OWATONNA              STEELE             6.0
BRANCH                CHISAGO            6.0
BROWNTON              MCLEOD             6.0
ELK RIVER             SHERBURNE          6.0
JANESVILLE            WASECA             6.0
WASECA                WASECA             6.0
MORGAN                REDWOOD            6.0
NEW ULM               BROWN              6.0
ST PETER              NICOLLET           6.0
MANKATO               BLUE EARTH         6.0   WEST SIDE OF TOWN
ALBERT LEA            FREEBORN           6.0
GENEVA LAKE           FREEBORN           5.5
BOYD                  LAC QUI PARLE      5.5  
BRADFORD              ISANTI             5.0
BUFFALO               WRIGHT             5.0
NORTHFIELD            RICE               5.0
VESTA                 REDWOOD            5.0
ANDOVER               ANOKA              4.5
WINSTED               MCLEOD             4.5
DAWSON                LAC QUI PARLE      4.5
CAMBRIDGE             ISANTI             4.0
DASSEL                MEEKER             3.9
RUSH CITY             CHISAGO            3.5
LAKE LILLIAN          KANDIHOYI          3.5
ANNANDALE             WRIGHT             3.0
LITCHFIELD            MEEKER             3.0
MADISON               LAC QUI PARLE      2.0
MONTEVIDEO            CHIPPEWA           2.0
CLARA CITY            CHIPPEWA           2.0
NEW LONDON            KANDIYOHI          2.0
ST CLOUD              STEARNS            1.7
GILMAN 2N             BENTON             1.3
RICE                  BENTON             1.3  
MORRIS                STEVENS            0.3

...WEST CENTRAL WISCONSIN...

LOCATION              COUNTY            SNOWFALL

HAUGEN                BARRON            23.0
PRESCOTT              PIERCE            20.0
RIVER FALLS           PIERCE            19.0
CAMERON               BARRON            19.0
RICE LAKE 6NW         BARRON            19.0
CUMBERLAND            BARRON            18.0
BALDWIN               ST CROIX          18.0
CLEAR LAKE            POLK              17.0
BALDWIN 1 W           ST CROIX          16.5
RIDGELAND             DUNN              15.0      
NEW RICHMOND          ST CROIX          13.8
SAND CREEK            DUNN              13.3
LUCK                  POLK              12.0
WEYERHAEUSER          RUSK              12.0
BAY CITY              PIERCE            11.0
BLOOMER               CHIPPEWA          10.0
CORNELL               CHIPPEWA          10.0
TONY 5 SE             RUSK               9.0
BIG FALLS             RUSK               9.0
SPRING VALLEY         PIERCE             8.5
MENOMONIE             DUNN               8.5
CEDAR FALLS           DUNN               8.0
JIM FALLS             CHIPPEWA           7.1
STANLEY               CHIPPEWA           6.9
CHIPPEWA FALLS        CHIPPEWA           6.0
EAU CLAIRE 3 SW       EAU CLAIRE         5.9
EAU CLAIRE            EAU CLAIRE         5.7
DURAND                PEPIN              5.0
AUGUSTA               EAU CLAIRE         3.5


PUBLIC INFORMATION STATEMENT
NATIONAL WEATHER SERVICE DULUTH MN
300 PM CST MON MAR 13 2006 

A LATE WINTER STORM DUMPED SIGNIFICANT SNOWFALL ACROSS PORTIONS
OF NORTHWEST WISCONSIN SINCE 6AM THIS MORNING. THE GREATEST 
SNOWFALL AMOUNTS WERE IN A BAND FROM IRON COUNTY ACROSS
SOUTHERN ASHLAND...SAWYER AND SOUTHERN WASHBURN COUNTIES.

AS OF 3PM THIS AFTERNOON HERE ARE THE HIGHEST TOTALS

GILE..........IRON COUNTY       17.5 INCHES 
LORETTA.......SAWYER COUNTY     15.0 INCHES
GLIDDEN.......ASHLAND COUNTY    14.0 INCHES
UPSON.........IRON COUNTY       14.0 INCHES
8S HAYWARD....SAWYER COUNTY     13.0 INCHES
MONTREAL......IRON COUNTY       12.0 INCHES
SANBORN.......ASHLAND COUNTY    12.0 INCHES


PUBLIC INFORMATION STATEMENT
NATIONAL WEATHER SERVICE DULUTH MN
240 PM CST MON MAR 13 2006 

THESE ARE SNOWFALL TOTALS FROM COOPERATIVE AND SNOWFALL OBSERVERS. 

NORTHEAST MINNESOTA              TIME       NEW SNOW   STORM TOTAL   SNOW DEPTH

ST. LOUIS COUNTY
====================
DULUTH NWS....................  245 PM         2.9           M          19

COOK COUNTY
====================
LITTLE MARAIS................. 1228 PM         1.2           M           M           M

LAKE COUNTY
====================
BEAVER BAY....................  235 PM         1.7           M           M

PINE COUNTY
====================
HINCKLEY  2SW.................  1216 PM        1.5           M           M
 

NORTHWEST WISCONSIN              TIME       NEW SNOW   STORM TOTAL   SNOW DEPTH

DOUGLAS COUNTY
====================
BENNETT.......................  1220 PM         6.0           M           M
POPLAR........................   132 PM         7.0           M           M
SOUTH RANGE...................   132 PM         7.5           M           M
 
BAYFIELD COUNTY
====================
HERBSTER......................   153 PM         8.0           M           M
WASHBURN 4W...................   130 PM         5.5         8.0        20.0

ASHLAND COUNTY
====================
ASHLAND.......................   205 PM         6.5           M           M
SANDBORN......................   202 PM        12.0           M           M

IRON COUNTY
====================
GILE..........................   155 PM        17.5           M           M
MONTREAL......................   110 PM        12.0           M           M
UPSON.........................   116 PM         7.0        14.0           M

BURNETT COUNTY
====================
WEBSTER.......................   120 PM         6.0           M           M

SAWYER COUNTY
====================
HAYWARD 8S....................   115 PM        13.0           M           M
 
PRICE COUNTY
====================
PHILLIPS......................  1200 PM         9.2           M           M
PARK FALLS CITY...............  1158 AM         8.0           M           M
PHILLIPS 5SW..................   100 PM         1.8        11.0        16.0





Return to Minnesota Climatology Working Group Main page
Error processing SSI file

URL: http://climate.umn.edu/doc/journal/snow060312_13.htm
Last modified: March 24, 2006