Lake Superior Freeze Over? March 6, 2003

On the visible satellite on March 6, a fairly uncommon occurrence can be seen. Lake Superior is about 90% froze over. An area of high pressure was over the lake for the past few days and this favored ice formation due to the cold air mass and relatively light winds Statistics can be a bit tricky when trying to calculate how often Lake Superior has froze over. As with most lake ice measurements, there is some subjectivity involved. Would a lake that's 90%, 95% or 100% covered be considered "completely froze over?"

When ice forms on Superior it can shift around frequently due to wind and water movement. In fact, on March 6 as the high pressure moved off to the east, gusty south winds have pushed the ice off the shore along the Minnesota and Wisconsin coast. Lake Superior will freeze completely over approximately once in 20 years. When looking at past statistics ice coverage is measured in percentages. According to the Great Lakes Aquarium, Lake Superior froze over nearly 100 percent in 1996 96 percent in 1994 and about 95 percent in 1972. The last records of complete ice coverage on the big lake is 1979 and 1962. There are some benefits to a large expanse of ice over the Great Lakes. Having a large ice cap can reduce the amount of evaporation during the winter. Also, according to the Open Lake Forecast for Lake Superior from the Marquette, Michigan National Weather Service Forecast Office there are no waves forecast due to the lake being mostly ice covered.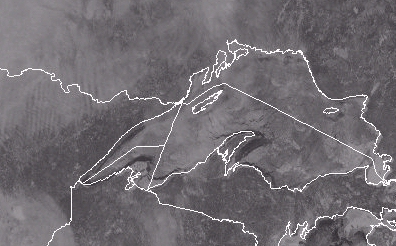 Visible Satellite from March 6, 2003 from the University Corporation of Atmospheric Reseach.
Listed below is an Associated Press story on the recent Lake Superior Ice.
Ice cap threatens to cover Lake Superior Associated Press
Published March 6, 2003
HOUGHTON, Mich. -- Record-shattering cold temperatures threaten to freeze massive Lake Superior's surface for the first time in more than two decades.
``The lake is fairly well covered,'' said Craig Evanego, an ice forecaster with the National Ice Center in Washington. ``It's the thickest its been in years.'' Lake Superior last froze completely in 1979, and this year's ice cover is the most since 1996-97, lake watchers said. Ice currently covers more than 90 percent of the greatest of the Great Lakes, Evanego said. In some areas, the covering is a scant inch or so, but vast portions of the big lake have 12 to 28 inches of ice, according to the National Ice Center.
Lakes Huron and Erie are ice-covered, with much of shallow Lake Erie buried under 28 or more inches of ice, the center reported. Northern Lake Michigan is frozen, but the mid- to lower section is open, other than coastal areas.
Relentless cold temperatures are responsible for the ice buildup. While snow swept across much of mid- and lower Michigan early Wednesday, Upper Peninsula residents again bundled up against record lows.``It's more than just a little bit cold here,'' said Dave Petrovich, a forecaster with the National Weather Service office in Marquette County's Negaunee Township. Temperatures at Houghton County Memorial Airport hit minus 17 degrees at 8 a.m. Wednesday, shattering the day's previous record of minus 5, set in 1960. Petrovich also said minus 16 in Marquette County set a new low. At the western tip of Lake Superior, Duluth, Minn., saw a low of 12 below Wednesday.
The winter of 2002-03 is shaping up to be slightly colder than normal in the area, though not as bitterly cold as many might believe, said Keith Bergens, meteorologist with the National Weather Service in Gaylord. Mild temperatures dominated October through the end of December, while colder than normal weather settled in since, he said. ``In history, when we look back at the winter of 2003, I'd say it was pretty average,'' Bergens said.
Here are some links to more information about lake Superior ice.
Great Lakes Aquarium. Information on how Lake Superior freezes.
Wintertime Imaging of the Great Lakes (1996-1997 Ice Event) From Michigan Tech.
Duluth News Tribune Story
Ice Charts From the National Ice Center
More Ice Charts from the National Ice Center
Current Ice Coverage from the National Ice Center.
High Resolution photo from NASA on March 9.


Return to Minnesota Climatology Working Group Main page

mcwg@soils.umn.edu
URL: http://climate.umn.edu/doc/journal/superior030603.htm
Last modified: March 18, 2003