Severe Storms and Tornadoes- July 17, 2010
On July 17, 2010 a warm front extended eastward from an area of low pressure in northeast South Dakota to Wabasha. The low pressure area moved to the east to western Minnesota by evening. Unstable air surged northward out ahead of this low pressure area. Temperatures soared into the 90's and dew point temperatures climbed to the low 70's over southern Minnesota.
Scattered thunderstorms developed in the afternoon, some of which dropped golf ball sized hail in Stearns and Todd Counties, with a report of baseball sized hail at Cold Spring at 3:37pm. There was also some wind damage too with a wind gust of 81 mph measured by a storm chaser near the town of Buckman in Morrison County. In the evening hours, storms intensified and engulfed the central and northern Twin Cities Metro area between 7 and 10pm. There were multiple reports of wind damage due to straight line winds, along with some reports of funnel clouds and brief tornado touchdowns. Despite the number of severe storm reports in the Twin Cities metro area, most of the damage was minor and limited to tree branches. Scattered power outages were common in the northern suburbs.
click map for preliminary storm reports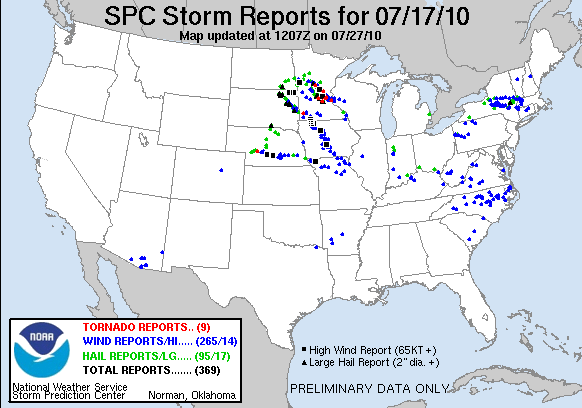 National Weather Service Severe Weather Summaries
Rainfall Totals
---

Storm Reports courtesy the National Weather Service - Chanhassen and Grand Forks:

PRELIMINARY LOCAL STORM REPORT...SUMMARY
NATIONAL WEATHER SERVICE TWIN CITIES/CHANHASSEN MN
513 AM CDT MON JUL 19 2010

..TIME...   ...EVENT...      ...CITY LOCATION...     ...LAT.LON...
..DATE...   ....MAG....      ..COUNTY LOCATION..ST.. ...SOURCE....
            ..REMARKS..

0202 PM     HAIL             5 W LONG PRAIRIE        45.98N 94.97W
07/17/2010  M1.75 INCH       TODD               MN   FIRE DEPT/RESCUE

0203 PM     FUNNEL CLOUD     3 NW SAUK CENTRE        45.77N 95.00W
07/17/2010                   STEARNS            MN   TRAINED SPOTTER

0219 PM     HAIL             3 WNW LITTLE SAUK       45.88N 94.97W
07/17/2010  M1.75 INCH       TODD               MN   TRAINED SPOTTER

            HAIL LASTED OVER 10 MINS. ALSO NOTED TREES DOWN ALONG HWY
            27 EAST OF LAKE OSAKIS.

0222 PM     TSTM WND DMG     3 NE OSAKIS             45.90N 95.11W
07/17/2010                   TODD               MN   STORM CHASER

            TREES DOWN

0222 PM     TSTM WND DMG     2 E OSAKIS              45.87N 95.11W
07/17/2010                   TODD               MN   STORM CHASER

            TREES DOWN EAST END OF LAKE OSAKIS HWY 27.

0225 PM     HAIL             3 NE SAUK CENTRE        45.76N 94.91W
07/17/2010  M0.88 INCH       STEARNS            MN   TRAINED SPOTTER

0233 PM     TSTM WND GST     4 E SAUK CENTRE         45.75N 94.88W
07/17/2010  M62.00 MPH       STEARNS            MN   TRAINED SPOTTER

0233 PM     TSTM WND DMG     4 E SAUK CENTRE         45.75N 94.88W
07/17/2010                   STEARNS            MN   TRAINED SPOTTER

            4 TO 5 INCH BRANCHES DOWN ON ROAD.

0234 PM     HAIL             3 W ST ROSA             45.73N 94.78W
07/17/2010  M1.00 INCH       STEARNS            MN   TRAINED SPOTTER

0235 PM     HAIL             1 W AVON                45.61N 94.47W
07/17/2010  E0.75 INCH       STEARNS            MN   TRAINED SPOTTER

0236 PM     HAIL             2 N SAUK CENTRE         45.77N 94.96W
07/17/2010  M0.75 INCH       STEARNS            MN   TRAINED SPOTTER

0237 PM     HAIL             3 W ST ROSA             45.73N 94.78W
07/17/2010  M1.75 INCH       STEARNS            MN   TRAINED SPOTTER

0243 PM     HAIL             1 N SAUK CENTRE         45.75N 94.96W
07/17/2010  M1.00 INCH       STEARNS            MN   TRAINED SPOTTER

0323 PM     HAIL             ST MARTIN               45.50N 94.66W
07/17/2010  M1.75 INCH       STEARNS            MN   TRAINED SPOTTER

0327 PM     HAIL             ST MARTIN               45.50N 94.66W
07/17/2010  M1.75 INCH       STEARNS            MN   TRAINED SPOTTER

0327 PM     HAIL             1 N RICHMOND            45.47N 94.52W
07/17/2010  M1.00 INCH       STEARNS            MN   TRAINED SPOTTER

0330 PM     HAIL             2 SW ST MARTIN          45.48N 94.69W
07/17/2010  M1.75 INCH       STEARNS            MN   TRAINED SPOTTER

0332 PM     HAIL             RICHMOND                45.45N 94.52W
07/17/2010  M2.75 INCH       STEARNS            MN   TRAINED SPOTTER

0334 PM     HAIL             RICHMOND                45.45N 94.52W
07/17/2010  M2.75 INCH       STEARNS            MN   TRAINED SPOTTER

0334 PM     HAIL             3 S FARMING             45.52N 94.56W
07/17/2010  M2.75 INCH       STEARNS            MN   TRAINED SPOTTER

            TIME ESTIMATED. WINDSHIELD BROKEN.

0334 PM     HAIL             3 S RICHMOND            45.41N 94.52W
07/17/2010  M1.75 INCH       STEARNS            MN   TRAINED SPOTTER

0337 PM     HAIL             COLD SPRING             45.46N 94.43W
07/17/2010  M4.25 INCH       STEARNS            MN   TRAINED SPOTTER

            GROUND IS COVERED WITH MAINLY SMALLER PIECES OF HAIL.

0344 PM     HAIL             4 W ST NICHOLAS         45.38N 94.52W
07/17/2010  M2.50 INCH       STEARNS            MN   TRAINED SPOTTER

0352 PM     HAIL             1 N KIMBALL             45.33N 94.30W
07/17/2010  M1.75 INCH       STEARNS            MN   FIRE DEPT/RESCUE

0358 PM     FUNNEL CLOUD     1 N KINGSTON            45.21N 94.31W
07/17/2010                   MEEKER             MN   TRAINED SPOTTER

            NON ROTATING WALL CLOUD

0402 PM     HAIL             3 S RICHMOND            45.41N 94.52W
07/17/2010  M1.75 INCH       STEARNS            MN   TRAINED SPOTTER

            TIME ESTIMATED

0405 PM     HAIL             8 S SOUTH HAVEN         45.18N 94.22W
07/17/2010  E2.75 INCH       WRIGHT             MN   TRAINED SPOTTER

0406 PM     HAIL             4 W ST NICHOLAS         45.38N 94.52W
07/17/2010  M2.50 INCH       STEARNS            MN   TRAINED SPOTTER

            TIME ESTIMATED

0407 PM     HAIL             KINGSTON                45.20N 94.31W
07/17/2010  E1.00 INCH       MEEKER             MN   TRAINED SPOTTER

0413 PM     HAIL             2 WSW ANNANDALE         45.25N 94.16W
07/17/2010  M0.88 INCH       WRIGHT             MN   TRAINED SPOTTER

0414 PM     HAIL             2 WSW ANNANDALE         45.25N 94.16W
07/17/2010  E1.00 INCH       WRIGHT             MN   TRAINED SPOTTER

0416 PM     TORNADO          2 SE KINGSTON           45.18N 94.28W
07/17/2010                   MEEKER             MN   TRAINED SPOTTER

            MOVING SSE

0418 PM     HAIL             COKATO                  45.08N 94.19W
07/17/2010  E1.75 INCH       WRIGHT             MN   LAW ENFORCEMENT

0426 PM     FUNNEL CLOUD     COKATO                  45.08N 94.19W
07/17/2010                   WRIGHT             MN   TRAINED SPOTTER

            TIME ESTIMATED

0428 PM     HAIL             3 SW BUFFALO            45.15N 93.91W
07/17/2010  E1.00 INCH       WRIGHT             MN   TRAINED SPOTTER

0430 PM     HAIL             5 SW ANNANDALE          45.20N 94.18W
07/17/2010  M2.00 INCH       WRIGHT             MN   TRAINED SPOTTER

0433 PM     HAIL             HOWARD LAKE             45.06N 94.09W
07/17/2010  E1.00 INCH       WRIGHT             MN   TRAINED SPOTTER

0433 PM     HAIL             7 WSW BUFFALO           45.14N 94.00W
07/17/2010  E1.75 INCH       WRIGHT             MN   TRAINED SPOTTER

0500 PM     TSTM WND DMG     3 S DONNELLY            45.65N 96.01W
07/17/2010                   STEVENS            MN   PUBLIC

            LARGE TREES DOWN ON A FARM.

0501 PM     TORNADO          2 SW WATERTOWN          44.94N 93.87W
07/17/2010                   CARVER             MN   FIRE DEPT/RESCUE

            NEAR COUNTY ROAD 122.

0505 PM     HAIL             WATERTOWN               44.96N 93.85W
07/17/2010  E0.75 INCH       CARVER             MN   FIRE DEPT/RESCUE

0508 PM     HAIL             4 E WATERTOWN           44.97N 93.77W
07/17/2010  E1.75 INCH       CARVER             MN   TRAINED SPOTTER

0511 PM     HAIL             WATERTOWN               44.96N 93.85W
07/17/2010  E1.00 INCH       CARVER             MN   FIRE DEPT/RESCUE

0512 PM     HAIL             WATERTOWN               44.96N 93.85W
07/17/2010  E1.75 INCH       CARVER             MN   TRAINED SPOTTER

0512 PM     HAIL             WATERTOWN               44.96N 93.85W
07/17/2010  E1.00 INCH       CARVER             MN   TRAINED SPOTTER

0512 PM     HAIL             WATERTOWN               44.96N 93.85W
07/17/2010  M1.75 INCH       CARVER             MN   TRAINED SPOTTER

            REPORTED IN NORTHERN PORTION OF TOWN.

0514 PM     HAIL             WATERTOWN               44.96N 93.85W
07/17/2010  E2.75 INCH       CARVER             MN   TRAINED SPOTTER

0518 PM     HAIL             MINNETRISTA             44.93N 93.71W
07/17/2010  E1.75 INCH       HENNEPIN           MN   LAW ENFORCEMENT

0521 PM     HAIL             ST BONIFACIUS           44.90N 93.75W
07/17/2010  E0.75 INCH       HENNEPIN           MN   TRAINED SPOTTER

0521 PM     HAIL             ST BONIFACIUS           44.90N 93.75W
07/17/2010  E2.75 INCH       HENNEPIN           MN   FIRE DEPT/RESCUE

0522 PM     HAIL             MOUND                   44.93N 93.66W
07/17/2010  E2.00 INCH       HENNEPIN           MN   STORM CHASER

0524 PM     HAIL             MOUND                   44.93N 93.66W
07/17/2010  E1.00 INCH       HENNEPIN           MN   TRAINED SPOTTER

0532 PM     HAIL             MOUND                   44.93N 93.66W
07/17/2010  E1.75 INCH       HENNEPIN           MN   TRAINED SPOTTER

0535 PM     HAIL             STAPLES                 46.36N 94.80W
07/17/2010  E2.75 INCH       TODD               MN   LAW ENFORCEMENT

0535 PM     TSTM WND DMG     STAPLES                 46.36N 94.80W
07/17/2010                   TODD               MN   LAW ENFORCEMENT

            TREES DOWN

0535 PM     TSTM WND DMG     WATERTOWN               44.96N 93.85W
07/17/2010                   CARVER             MN   EMERGENCY MNGR

            STRIPPED CROPS AND DAMAGED SIDING

0538 PM     TSTM WND DMG     WATERTOWN               44.96N 93.85W
07/17/2010                   CARVER             MN   LAW ENFORCEMENT

            DAMAGE REPORTED OF ROOFS...CARS...TREES AND FIELDS

0540 PM     HAIL             N MOTLEY                46.34N 94.64W
07/17/2010  E1.00 INCH       MORRISON           MN   PUBLIC

0630 PM     HAIL             LITTLE FALLS            45.98N 94.36W
07/17/2010  E1.75 INCH       MORRISON           MN   LAW ENFORCEMENT

0630 PM     HAIL             5 N LITTLE FALLS        46.04N 94.35W
07/17/2010  E1.00 INCH       MORRISON           MN   TRAINED SPOTTER

            HAIL LASTED FOR APPROX 5 MINUTES AND COVERED THE GROUND

0633 PM     TSTM WND GST     BENSON                  45.32N 95.61W
07/17/2010  M58.00 MPH       SWIFT              MN   ASOS

0643 PM     HAIL             3 WNW GENOLA            45.98N 94.17W
07/17/2010  E1.00 INCH       MORRISON           MN   TRAINED SPOTTER

0656 PM     TSTM WND GST     2 S BUCKMAN             45.87N 94.09W
07/17/2010  M81.00 MPH       MORRISON           MN   STORM CHASER

            ALONG HWY 27

0658 PM     TORNADO          1 S CUSHING             46.17N 94.56W
07/17/2010                   MORRISON           MN   TRAINED SPOTTER

            ON GROUND

0717 PM     TSTM WND DMG     PENNOCK                 45.15N 95.18W
07/17/2010                   KANDIYOHI          MN   TRAINED SPOTTER

            DOWNED POWER LINES

0725 PM     TORNADO          3 E FORESTON            45.73N 93.65W
07/17/2010                   MILLE LACS         MN   TRAINED SPOTTER

            ROPE TORNADO TOUCHED GROUND BRIEFLY THEN WENT BACK UP

0746 PM     FUNNEL CLOUD     SARTELL                 45.62N 94.21W
07/17/2010                   STEARNS            MN   TRAINED SPOTTER

            MOVING INTO BENTON COUNTY

0755 PM     TSTM WND GST     MAPLE LAKE              45.23N 94.00W
07/17/2010  M58.00 MPH       WRIGHT             MN   MESONET

0801 PM     TSTM WND DMG     3 NE HASTY              45.40N 93.94W
07/17/2010                   SHERBURNE          MN   TRAINED SPOTTER

            TREES DOWN...DESTROYED FARM IRRIGATION SYSTEM.

0802 PM     TSTM WND GST     MONTICELLO              45.30N 93.80W
07/17/2010  M76.00 MPH       WRIGHT             MN   TRAINED SPOTTER

0810 PM     TSTM WND DMG     ELK RIVER               45.33N 93.57W
07/17/2010                   SHERBURNE          MN   TRAINED SPOTTER

            SHEDS... RIDES... TENTS DOWN AND BLOWN OVER AT SHERBURNE
            COUNTY FAIR

0812 PM     TSTM WND DMG     2 NNW ELK RIVER         45.36N 93.58W
07/17/2010                   SHERBURNE          MN   TRAINED SPOTTER

            2 FOOT DIAMETER TREES DOWN WITH HALF A DOZEN OTHER TREES
            DOWN IN ADDITION TO A FENCE DOWN

0814 PM     TSTM WND DMG     BIG LAKE                45.34N 93.75W
07/17/2010                   SHERBURNE          MN   TRAINED SPOTTER

            6 INCH TREES DOWN

0815 PM     TSTM WND DMG     2 NW RAMSEY             45.28N 93.48W
07/17/2010                   ANOKA              MN   TRAINED SPOTTER

            TIME ESTIMATED OF NUMEROUS 1 TO 2 FOOT DIAMETER HARDWOOD
            TREES DOWN ON GROUNDS OF NOWTHEN THRESHING SHOW. WIND
            ESTIMATED 70 MPH.

0815 PM     TSTM WND DMG     5 S CLEARWATER          45.34N 94.04W
07/17/2010                   WRIGHT             MN   TRAINED SPOTTER

            LARGE GROVE OF TREES DOWNED UP TO 2 FEET IN DIAMETER WITH
            MINOR DAMAGE TO HOUSE

0815 PM     TSTM WND DMG     4 E ELK RIVER           45.33N 93.48W
07/17/2010                   ANOKA              MN   TRAINED SPOTTER

            TREES DOWN

0815 PM     TSTM WND DMG     MAPLE GROVE             45.11N 93.46W
07/17/2010                   HENNEPIN           MN   TRAINED SPOTTER

            ABOUT A HALF DOZEN TREES WITH SIX INCH PLUS BRANCHES DOWN
            ALONG COUNTY RD 50. WIND ESTIMATED 60 MPH.

0820 PM     TSTM WND GST     MAPLE GROVE             45.11N 93.46W
07/17/2010  E50.00 MPH       HENNEPIN           MN   LAW ENFORCEMENT

0820 PM     FUNNEL CLOUD     CHAMPLIN                45.17N 93.39W
07/17/2010                   HENNEPIN           MN   TRAINED SPOTTER

            ROTATING WALL CLOUD AT US 169 AND ELM CREEK ST.

0820 PM     FUNNEL CLOUD     DAYTON                  45.19N 93.47W
07/17/2010                   HENNEPIN           MN   TRAINED SPOTTER

            OBSCURRED BY TREE LINE

0825 PM     TSTM WND DMG     5 WNW ROSEVILLE         45.26N 93.33W
07/17/2010                   ANOKA              MN   TRAINED SPOTTER

            MULTIPLE LARGE TREES DOWN... TIME ESTIMATED

0826 PM     TSTM WND GST     CRYSTAL                 45.04N 93.36W
07/17/2010  M58.00 MPH       HENNEPIN           MN   ASOS

0827 PM     TORNADO          ANOKA                   45.21N 93.39W
07/17/2010                   ANOKA              MN   PUBLIC

            UNCONFIRMED

0829 PM     TSTM WND DMG     CRYSTAL                 45.04N 93.36W
07/17/2010                   HENNEPIN           MN   TRAINED SPOTTER

            2 TO 3 INCH BRANCHES DOWN AT 42ND AND DOUGLAS

0830 PM     TSTM WND DMG     ARDEN HILLS             45.07N 93.17W
07/17/2010                   RAMSEY             MN   TRAINED SPOTTER

            3 LARGE TREES FELL ON HOUSE

0831 PM     TSTM WND DMG     ELK RIVER               45.33N 93.57W
07/17/2010                   SHERBURNE          MN   TRAINED SPOTTER

            10 INCH TREE LIMBS CAME DOWN ON POWER LINES KNOCKING OUT
            POWER.

0832 PM     TSTM WND DMG     ST FRANCIS              45.38N 93.36W
07/17/2010                   ANOKA              MN   TRAINED SPOTTER

            4 INCH BRANCHES DOWN NORTH OF VIKING BLVD AND CLEANY RD

0833 PM     TSTM WND DMG     NEW BRIGHTON            45.07N 93.20W
07/17/2010                   RAMSEY             MN   TRAINED SPOTTER

            SOME LARGE LIMBS AND MANY SMALLER BRANCHES BLOWN DOWN.

0833 PM     FLOOD            2 SSW ELK RIVER         45.31N 93.57W
07/17/2010                   SHERBURNE          MN   TRAINED SPOTTER

            STANDING WATER COVERING THE ROAD...PAST THE CURB LINE...
            STALLED VEHICLES ON THE ROAD.

0833 PM     TSTM WND DMG     BLAINE                  45.17N 93.21W
07/17/2010                   ANOKA              MN   TRAINED SPOTTER

            18 TO 24 INCH TREES DOWN AT BLAINE CITY HALL RADISSON
            ROAD

0836 PM     FUNNEL CLOUD     ROSEVILLE               45.02N 93.15W
07/17/2010                   RAMSEY             MN   TRAINED SPOTTER

            ROTATING WALL CLOUD AT SNELLING AND LARPENTEUR

0836 PM     FUNNEL CLOUD     HUGO                    45.16N 92.96W
07/17/2010                   WASHINGTON         MN   TRAINED SPOTTER

            ROTATING WALL CLOUD ON I 35

0838 PM     TSTM WND DMG     1 S ELK RIVER           45.31N 93.57W
07/17/2010                   SHERBURNE          MN   TRAINED SPOTTER

            4 INCH TREE SEVERED IN HALF

0838 PM     TSTM WND DMG     3 NE MINNEAPOLIS        44.99N 93.21W
07/17/2010                   RAMSEY             MN   TRAINED SPOTTER

            TREE LIMBS SNAPPING

0841 PM     TSTM WND DMG     VADNAIS HEIGHTS         45.06N 93.07W
07/17/2010                   RAMSEY             MN   TRAINED SPOTTER

            8 INCH DIAMETER LIMBS DOWN

0841 PM     TSTM WND GST     1 NNE VADNAIS HEIGHTS   45.07N 93.07W
07/17/2010  M70.00 MPH       RAMSEY             MN   TRAINED SPOTTER

0842 PM     TSTM WND DMG     ANOKA                   45.21N 93.39W
07/17/2010                   ANOKA              MN   TRAINED SPOTTER

            8 INCH TRESS SNAPPED ON VIKING BLVD

0844 PM     TSTM WND GST     MAPLEWOOD               44.99N 93.02W
07/17/2010  M63.60 MPH       RAMSEY             MN   TRAINED SPOTTER

            WIND DAMAGE INCLUDES NUMEROUS 8 TO 12 INCH LARGE BRANCHES
            DOWN WITH POWER OUTAGES. SPOTTER HAS A WEATHER STATION.

0845 PM     TSTM WND DMG     1 N WHITE BEAR LAKE     45.08N 93.01W
07/17/2010                   RAMSEY             MN   TRAINED SPOTTER

            SEVERAL 6 TO 12 INCH DIAMETER TREES DOWN ALONG HWY 61 AND
            CITY WITHOUT POWER. TIME ESTIMATED

0846 PM     TSTM WND GST     ST PAUL                 44.95N 93.10W
07/17/2010  M63.00 MPH       RAMSEY             MN   ASOS

0848 PM     FLASH FLOOD      SHOREVIEW               45.08N 93.14W
07/17/2010                   RAMSEY             MN   TRAINED SPOTTER

            8 INCH TREES IN POWER LINES AT JUNCT OF LEXINGTON AND
            JOHNS RD

0848 PM     TSTM WND DMG     5 N ROSEVILLE           45.08N 93.14W
07/17/2010                   RAMSEY             MN   TRAINED SPOTTER

            8 INCH TREES DOWN

0848 PM     TSTM WND DMG     BLAINE                  45.17N 93.21W
07/17/2010                   ANOKA              MN   PUBLIC

            20 TO 24 INCH TREE DOWN AT 242 AND HWY 65

0848 PM     TSTM WND DMG     3 NW BECKER             45.40N 93.91W
07/17/2010                   SHERBURNE          MN   TRAINED SPOTTER

            13 TO 15 LARGE TREES UPROOTED

0852 PM     TSTM WND DMG     CHAMPLIN                45.17N 93.39W
07/17/2010                   HENNEPIN           MN   TRAINED SPOTTER

            8 INCH PINE TREE LIMB DOWN

0852 PM     TSTM WND DMG     BLAINE                  45.17N 93.21W
07/17/2010                   ANOKA              MN   TRAINED SPOTTER

            5 INCH TREE LIMBS DOWN

0852 PM     TSTM WND DMG     4 NNW STILLWATER        45.11N 92.87W
07/17/2010                   WASHINGTON         MN   TRAINED SPOTTER

            SOME 2-3 INCH DIAMETER BRANCHES BROKEN OFF

0852 PM     TSTM WND GST     4 NNW STILLWATER        45.11N 92.87W
07/17/2010  M60.00 MPH       WASHINGTON         MN   TRAINED SPOTTER

0857 PM     TORNADO          LAKE ELMO               45.00N 92.91W
07/17/2010                   WASHINGTON         MN   LAW ENFORCEMENT

            ON THE GROUND

0857 PM     TSTM WND DMG     LINO LAKES              45.16N 93.08W
07/17/2010                   ANOKA              MN   TRAINED SPOTTER

            6 INCH DIAMETER BRANCHES DOWN

0858 PM     TSTM WND DMG     1 N MARINE ON ST CROIX  45.21N 92.77W
07/17/2010                   WASHINGTON         MN   TRAINED SPOTTER

            LARGE TREE FELL ON CAMPER IN WILLIAM O BRIEN ST PARK

0858 PM     FLOOD            MINNEAPOLIS             44.96N 93.27W
07/17/2010                   HENNEPIN           MN   TRAINED SPOTTER

            1 FOOT OF MOVING WATER AT 7TH ST SE AND 5TH AVE.

0902 PM     TSTM WND DMG     ANOKA                   45.21N 93.39W
07/17/2010                   ANOKA              MN   TRAINED SPOTTER

            RAILROAD GATE CROSSING BROKEN ON MAIN STREET

0903 PM     TSTM WND DMG     MOUNDS VIEW             45.11N 93.21W
07/17/2010                   RAMSEY             MN   TRAINED SPOTTER

            10 INCH TREES DOWN

0904 PM     TSTM WND DMG     ANDOVER                 45.26N 93.33W
07/17/2010                   ANOKA              MN   TRAINED SPOTTER

            12-16 INCH MAPLE TREES SNAPPED

0915 PM     TSTM WND DMG     EAST BETHEL             45.34N 93.20W
07/17/2010                   ANOKA              MN   TRAINED SPOTTER

            8 INCH TREE DOWN AND 12 INCH TREE SNAPPED

0922 PM     TSTM WND DMG     2 WSW HAM LAKE          45.25N 93.23W
07/17/2010                   ANOKA              MN   TRAINED SPOTTER

            7 INCH TREES DOWN

0923 PM     TSTM WND DMG     STILLWATER              45.06N 92.82W
07/17/2010                   WASHINGTON         MN   TRAINED SPOTTER

            6 INCH TREES DOWN AT FERRY FALLS AND BOOM TFD

0928 PM     TSTM WND GST     NEW RICHMOND            45.12N 92.54W
07/17/2010  M63.00 MPH       ST. CROIX          WI   AWOS

0930 PM     TSTM WND DMG     BOYCEVILLE              45.04N 92.04W
07/17/2010                   DUNN               WI   LAW ENFORCEMENT

            POWER LINE DOWN

0937 PM     TSTM WND DMG     RIVER FALLS             44.86N 92.62W
07/17/2010                   PIERCE             WI   TRAINED SPOTTER

            5 INCH TREE DOWN

0941 PM     TSTM WND DMG     1 E CHAMPLIN            45.17N 93.37W
07/17/2010                   HENNEPIN           MN   EMERGENCY MNGR

            16 INCH DIAMETER ELM TREE DOWN

0945 PM     TSTM WND DMG     1 WSW NEW BRIGHTON      45.06N 93.22W
07/17/2010                   RAMSEY             MN   TRAINED SPOTTER

            A FEW BRANCHES DOWN UP TO 6 INCHES IN DIAMETER

1002 PM     TSTM WND GST     MADELIA                 44.05N 94.42W
07/17/2010  M59.00 MPH       WATONWAN           MN   DEPT OF HIGHWAYS

            MNDOT STATION 45 ON US 60 MILE POST 86

1010 PM     TSTM WND DMG     1 NW EAU CLAIRE         44.83N 91.51W
07/17/2010                   EAU CLAIRE         WI   TRAINED SPOTTER

            ONE FOOT AND A HALF DIAMETER TREE SNAPPED NEAR BASE.

1051 PM     NON-TSTM WND DMG 2 N WASECA              44.11N 93.50W
07/17/2010                   WASECA             MN   EMERGENCY MNGR

            POWER LINES DOWN

1055 PM     TSTM WND DMG     AMBOY                   43.89N 94.16W
07/17/2010                   BLUE EARTH         MN   LAW ENFORCEMENT

            TREE DOWN

1057 PM     NON-TSTM WND DMG WASECA                  44.08N 93.50W
07/17/2010                   WASECA             MN   EMERGENCY MNGR

            TREE DOWN

1202 AM     HEAVY RAIN       7 S HILLMAN             45.91N 93.89W
07/18/2010  M3.02 INCH       MORRISON           MN   TRAINED SPOTTER

            2.01 INCHES FELL IN 30 MINUTES

PRELIMINARY LOCAL STORM REPORT...SUMMARY CORRECTION
NATIONAL WEATHER SERVICE EASTERN ND/GRAND FORKS ND
849 PM CDT SUN JUL 18 2010

..TIME...   ...EVENT...      ...CITY LOCATION...     ...LAT.LON...
..DATE...   ....MAG....      ..COUNTY LOCATION..ST.. ...SOURCE....
            ..REMARKS..

0455 PM     HAIL             7 WSW BARNESVILLE       46.61N 96.55W
07/17/2010  E1.75 INCH       WILKIN             MN   PUBLIC

0500 PM     HAIL             4 SW BARNESVILLE        46.61N 96.48W
07/17/2010  E1.00 INCH       WILKIN             MN   PUBLIC

0505 PM     HAIL             WADENA                  46.44N 95.13W
07/17/2010  E0.75 INCH       WADENA             MN   TRAINED SPOTTER

            WELL DEFINED ROTATION OVERHEAD

0505 PM     TSTM WND DMG     BARNESVILLE             46.65N 96.42W
07/17/2010                   CLAY               MN   BROADCAST MEDIA

            SMALL RIDE AT CLAY COUNTY FAIR DAMAGED DUE TO
            THUNDERSTORM WINDS. TIME APPROXIMATE BASED ON MEDIA
            REPORTS BUT COINCIDES WITH OTHER DAMAGE IN THE AREA.

0508 PM     TSTM WND DMG     6 E VERNDALE            46.40N 94.89W
07/17/2010                   WADENA             MN   PUBLIC

            TREE BRANCHES UP TO 4 INCHES DIAMETER SNAPPED.

0510 PM     HAIL             3 NE ALDRICH            46.41N 94.89W
07/17/2010  E1.50 INCH       WADENA             MN   PUBLIC

0514 PM     HAIL             S WAHPETON              46.27N 96.61W
07/17/2010  E0.88 INCH       RICHLAND           ND   LAW ENFORCEMENT

0514 PM     HAIL             WAHPETON                46.27N 96.61W
07/17/2010  M1.25 INCH       RICHLAND           ND   PUBLIC

0515 PM     TSTM WND DMG     BARNESVILLE             46.65N 96.42W
07/17/2010                   CLAY               MN   PUBLIC

            LARGE TREE BLOWN DOWN NEXT TO FIREHOUSE. A LOT OF SMALLER
            BRANCHES ALSO ON THE GROUND AROUND TOWN.

0515 PM     HAIL             1 W SHELDON             46.59N 97.51W
07/17/2010  E1.00 INCH       RANSOM             ND   PUBLIC

0517 PM     HAIL             6 E VERNDALE            46.40N 94.89W
07/17/2010  E1.50 INCH       WADENA             MN   PUBLIC

0520 PM     HAIL             6 NE WADENA             46.50N 95.05W
07/17/2010  E1.75 INCH       WADENA             MN   PUBLIC

0520 PM     HAIL             3 S WAHPETON            46.23N 96.61W
07/17/2010  E1.00 INCH       RICHLAND           ND   PUBLIC

0520 PM     HAIL             1 S BRECKENRIDGE        46.25N 96.59W
07/17/2010  E1.50 INCH       WILKIN             MN   TRAINED SPOTTER

0522 PM     HAIL             2 W VERGAS              46.66N 95.85W
07/17/2010  E1.75 INCH       OTTER TAIL         MN   TRAINED SPOTTER

0530 PM     FLOOD            1 S LAWNDALE            46.54N 96.36W
07/17/2010                   WILKIN             MN   PUBLIC

            1.5 INCHES OF RAIN IN 15 MINUTES. WIDESPREAD AGRICULTURAL
            PONDING OF WATER...HOWEVER NO WATER OBSERVED FLOWING OVER
            NEARBY ROADS. 0.05 INCH HAIL REPORTED AS WELL.

0547 PM     TSTM WND GST     1 N ROTHSAY             46.49N 96.29W
07/17/2010  M87.00 MPH       WILKIN             MN   MESONET

            MNDOT RWIS SITE

0600 PM     HAIL             1 SSW VINING            46.25N 95.54W
07/17/2010  E1.50 INCH       OTTER TAIL         MN   PUBLIC

0610 PM     HAIL             1 SE HORACE             46.75N 96.89W
07/17/2010  E1.00 INCH       CASS               ND   PUBLIC

0610 PM     FLASH FLOOD      3 NE NEW YORK MILLS     46.55N 95.33W
07/17/2010                   OTTER TAIL         MN   PUBLIC

            FLOODED BASEMENT

0612 PM     HAIL             3 ESE HORACE            46.74N 96.85W
07/17/2010  E0.75 INCH       CASS               ND   PUBLIC


&&
THIS IS A PRELIMINARY SUMMARY. DUE TO THE WEEKEND...MANY OF OUR
OBSERVERS HAVE NOT BEEN AVAILABLE TO REPORT DAMAGE TO US. ALSO...WE
HAVE HAD NO REPORTS OF TORNADOES AT THIS POINT. WE WILL CONTINUE TO
WORK WITH LAW ENFORCEMENT...SPOTTERS AND MEDIA PARTNERS TO VERIFY
THAT ALL SEVERE WEATHER RELATED DAMAGE HAS BEEN DISCOVERED.
$$

MEWENS